As 2021 draws to a close, there is still plenty of activity in the World Kid Lit Community. Thank you from the World Kid Lit Team to all of our contributors, readers and supporters. We wish you all the very best for 2022!
News
Einstein: The Fantastic Journey of a Mouse Through Space and Time by Torben Kuhlmann, translated from German by David Henry (NorthSouth) has been selected as one of the best STEM books for 2022 by the National Science Teaching Association.
***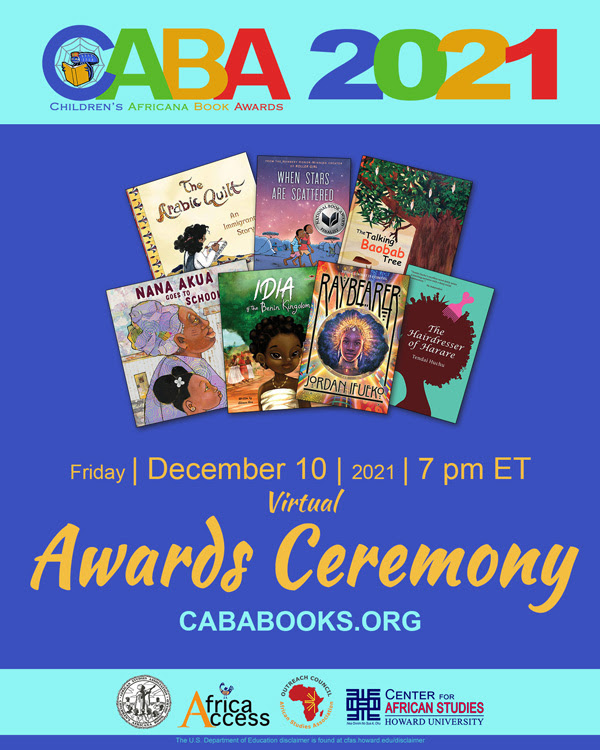 The Children's Africana Book Awards (CABA) are presented annually to the authors and illustrators of the best children's and young adult books on Africa published or republished in the US. The Winners of the 2021 Children's Africana Book Awards are:
Best Books for Young Children: Nana Akua Goes to School by Tricia Elam Walker & April Harrison (illus.) Schwartz & Wade Books, 2020. Countries of Topic: Ghana / USA. Idia of the Benin Kingdom by Ekiuwa Aire & Alina Shabelnyk (illus.) Our Ancestors, 2020. Country of Topic: Nigeria
Honor Books for Young Children: The Talking Baobab Tree by Nelda LaTeef Sub-Saharan Publishers, 2020. Country of Topic: Senegal. The Arabic Quilt: An Immigrant Story by Aya Khalil & Anait Semirdzhyan (illus.) Tilbury House, 2020. Countries of Topic: Egypt / USA.
Best Book for Older Readers: Raybearer by Jordan Ifueko Amulet Books, 2020. Country of Topic: Nigeria
Honor Book for Older Readers: When Stars are Scattered by Victoria Jamieson & Omar Mohamed Dial Books for Young Readers, 2020. Countries of Topic: Somalia / Kenya
Best Book for New Adults: The Hairdresser of Harare by Tendai Huchu Weaver Press, 2010. Country of Topic: Zimbabwe
***
PEN Translates from English PEN has announced the latest recipients of their translation awards which includes Fairy Tales Are For Everyone – the first children's book in Hungarian to feature LGBTQ+ protagonists – translated from the Hungarian (Hungary) by Anna Bentley (HarperCollins). Congratulations to everyone involved in this project!
Book reviews
Kirkus – Best of 2021: Our Favorite Middle-Grade Books, by Laura Simeon. Includes Soul Lanterns by Shaw Kuzki, translated by Emily Balistrieri (Delacorte), Saving Sorya: Chang and the Sun Bear written and translated by Trang Nguyen and illustrated by Jeet Zdung (Dial Books for Young Readers), and Niños: Poems for the Lost Children of Chile by María José Ferrada, illustrated by María Elena Valdez and translated from Spanish by Lawrence Schimel (Eerdmans)
Children's Literature Association International Committee – Translated Children's Books you should know about. 11 translators from around the world recommend children's books in translation that deserve more critical attention, including books and authors from Benin, Botswana, Cameroon, China, Democratic Republic of the Congo, Ghana, Indonesia, Japan, Kenya, Malawi, Mauritius, Netherlands, Nigeria, Russia, Spain, Sweden, South Africa, Togo, and Uganda
The Guardian – The best children's and YA books of 2021, by Imogen Russell Williams. Includes The False Rose by Jakob Wegelius, translated from Swedish by Peter Graves (Pushkin).
The Horn Book – Best Books 2021, featuring Sato the Rabbit by Yuki Ainoya, tr. Michael Blaskowsky (Enchanted Lion) and The Night Walk by Marie Dorleans, translated by Polly Lawson (Floris)
American Library Association (ALA) – 2021 Editors' Choice: Books for Youth, featuring Oksi by Mari Ahokoivu, translated by Silja-Maaria Aronpuro (Levine Querido), The Sea-Ringed World: Sacred Stories of the Americas by María García Esperón, illustrated by Amanda Mijangos, translated by David Bowles (Levine Querido) and The Secret of the Magic Pearl by Elisa Sabatinelli, illustrated by Iacopo Bruno, translated by Christopher Turner (Red Comet)
New Books in German – Books of the Year 2021, features Einstein –The Fantastic Journey of a Mouse Through Space and Time by Torben Kuhlmann, translated by David Henry Wilson (NorthSouth)
Russian Kid Lit Now – Alyona Timofeyeva's review and Nina Murray's English sample of Russian-language chapter book LITTLE QUARANTINE PEOPLE by Elena Klepikova and Ksenia Zemskova
Betsy Bird – 31 days, 31 lists: 2021 Translated Books for kids.
Betsy Bird – 31 Days, 31 Lists: 2021 Caldenotts
Jewish Book Council – In the Mar­ket of Zakrobat by Ori Elon, Mena­hem Hal­ber­stadt (Illus­tra­tor), Shi­ra Atik (Trans­la­tor). Review by Emi­ly Schneider
Book Blether – Top 30 Middle Grade books 2021, feat. The False Rose by Jakob Wegelius, translated by Peter Graves (Pushkin) and Red Stars by Davide Morosinotto, translated by Denise Muir, ill. Simone Tso (Pushkin/Delacorte).
The Repository – Kendal Rautzhan: More Christmas ideas for kids who enjoy pets, featuring "One Million Oysters on Top of the Mountain," by Alex Nogués, illustrated by Miren Asiain Lora, translated Lawrence Schimel, (Eerdmans)
Global Literature in Libraries Initiative #WorldKidLitWednesday translated book reviews:
Interviews and articles
In Geveb Journali of Yiddish Studies – interview with with Jordan Kutzik about Kinder-loshn Publications, a new publishing venture at Yugntruf Youth for Yiddish. Thanks for the lovely shout-out for Project World Kid Lit and #WorldKidLitMonth!
International Publishers Association – Michiel Kolman, Chair of the IPA's Inclusive Publishing and Literacy Committee talks to author, translator and publisher Lawrence Schimel about his children's books, their reception in different markets and the shared borders of freedom to publish and inclusivity.
Neuroscience News – Studies of Children's Stories Shows Differences in Russian and U.S. Approaches to Emotion
Videos and podcasts
#ReadingAfrica panel session hosted by Catalyst Press with panelists Ekiuwa Aire, Hannes Barnard, Ruth Ahmedzai Kemp and Caroline Kurtz, moderated by Bunmi Emenanjo
Kirkus Reviews Podcast with Laura Simeon (39:00), featuring Beyond the Blue Border by Dorit Linke, translated by Elizabeth Lauffer (Charlesbridge)
World Literature Today – in their 4th WLT Book Buzz, presenters Laura Louda and Bunmi Ishola cover 18 books in translation for kids, including books translated from Japanese, German, French, Italian, Swedish and Spanish. Dragons, zombies, friendship, and adventure plus a special shout-out to World Kid Lit – thanks guys!
Events and opportunities
Muna Kalati are looking for a Communications and Digital Marketing Officer. Applications are open until 10 January 2022. More details here.
***
Green Bean Books are looking for reviewers: Are you a parent, educator, blogger, or general children's book admirer? Do you want to get your hands on copies of exciting new releases before they're officially published? If so, sign up here.
***
Bristol Translates Literary Translation Summer School
4-8 July 2022, online. Applications open in January. Workshops available
French
Arabic
Catalan
Chinese
German
Italian
Japanese
Polish
Russian
Spanish
Turkish
Multi-language
***
British Centre for Literary Translation Summer School
Online from Monday 18th – Friday 22nd July 2022. Applications open in January. Workshops available:
Arabic
BCMS (Bosnian, Croatian, Montenegrin, Serbian) – subject to funding
German
Japanese
Literature from Taiwan
Multilingual Poetry
Multilingual Prose
Training the Trainer
Ukrainian
***
Translator members of SCBWI are invited to a Translators' Social with Laura Watkinson, 11 February 2022, 7,30-8.30 pm UTC. More info and how to register here
***
National Centre for Writing, UK – Visible Communities residencies at Dragon Hall.
The National Centre for Writing would like to appoint up to three translators in virtual residence for the Visible Communities programme. The three residencies will run simultaneously for four months, from April to July 2022. We will pay a fee of £4,000 per residency. This virtual residency opportunity will be open to UK-based Black, Asian and Ethnically Diverse literary translators working from any language into English. More details here. The deadline for applications is Monday 17th January 2022
***
On World Kid Lit Blog this month:
New Releases
Picture books
It's So Difficult by Raúl Nieto Guridi, translated from Spanish [Spain] by Lawrence Schimel (Eerdmans)
My Grandma's Photos by Özge Bahar Sunar, illustrated by Senta Urgan, translated from Turkish [Turkey] by Amy Marie Spangler (Amazon Crossing)
Young adult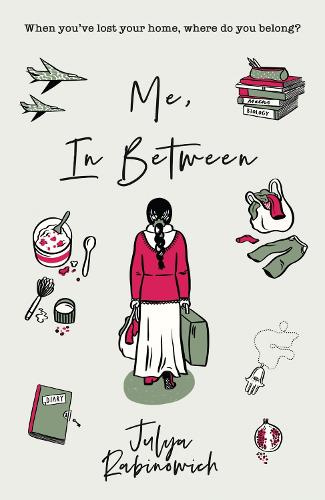 Me, In Between by Julya Rabinowich, translated from German [Austria] by Claire Storey (Andersen Press)
The Blue Book of Nebo by Manon Steffan Ros, translated from Welsh [Wales] by the author (Firefly Press)
Academic study
The Translation of Violence in Children's Literature. Images from the Western Balkans by Marija Todorova (Routledge, 2021) – The first academic study of children's literature in translation from the Western Balkans
***
If you spot anything to include in our next monthly round-up, please send it to worldkidlit@gmail.com. If you would like to contribute to World Kid Lit in 2022, don't hesitate to get in touch!