It's the first week of December and that means it's #ReadingAfrica Week!
First launched by Catalyst Press in 2017, #ReadingAfrica week is gaining momentum, with more and more readers sharing their favourite African books on social media with the hashtag. This year, Catalyst Press is hosting three live, online panel discussions celebrating writers from Africa.
World Kid Lit is honoured to join the panel on Children's and YA Literature on Wednesday, 8 December (12.30 p.m. ET/ 5.30 p.m. UTC/ 7.30 p.m. CAT). To join the live conversation between Ekiuwa Aire, Hannes Barnard, Ruth Ahmedzai Kemp and Caroline Kurtz sign up here.
Until then, enjoy a few of our favourite children's books from Africa (plus one bonus adult read!)…
Christian Elongué, Director of Muna Kalati is reading …
SOUTH AFRICA The Best Meal Ever by Sindiwe Magona, illustrated by Paddy Bouma (New Africa Books) is a beautiful post-apartheid South African picture book about a girl named Siziwe who is looking after her younger brothers and sisters while their mom is away in the village caring for their grandpa while he's ill. This is a good book for children and young adults because it focuses on the persisting inequalities that defined the Apartheid-era and South Africa as a whole.
UGANDA Greedy Monkey Loses a Best Friend by Evangeline L. Barongo. This is the story of a selfish, egocentric and mean monkey. Because of his self-centered nature, he lost the company of other animals and struggles to be reintegrated. Another good story for kids about the animal world.
Arabic Translator and Mom to a toddler Sawad Hussain is reading …
NIGERIA A real favourite of my son's is Baby Goes to Market by Atinuke, illustrated by Angela Brooksbank (Walker Books). My sister bought it for us, and he loveeeees it. It's such a fun book with vibrant illustrations, and some comical moments too!
GHANA Another great book is Kayim's Quest For Good Fortune, by Ama Worla, illustrated by Cyril Abban (Mountype Publishing). It includes activities at the back and we're looking forward to getting it for our son when he's a bit older. You can read an interview with the author here.
KENYA Finally, we're starting to get into Sulwe, by Lupita Nyong'o, illustrated by Vashti Harrison (Penguin). The story is heartbreaking, but soars towards the end!
Arabic and French Translator Anam Zafar is reading …
CAMEROON On my to-read list is the middle-grade book Ma famille du Cameroun : de Paris à Yaoundé by Didier Reuss and Jessica Reuss-Nliba (MY FAMILY IN CAMEROON; PARIS TO YAOUNDÉ). Tania—whose mother is Cameroonian and father is French—goes to Cameroon for the first time to visit her family. She meets her cousin Paul, the same age as her, and they compare the similarities and differences in their cultures and lifestyles. I love stories about exploring heritage, and from the first pages of the book, Tania seems so excited. I can't wait to learn more about Cameroon along with her. #TranslateThis

ALGERIA Next up is The Djinn's Apple by Djamila Morani, a fast-paced historical YA novel translated by Sawad Hussain (Arabic – Algeria, forthcoming in English from Neem Tree Press). Set in the Abbasid period (700-800 AD), it is narrated by 12-year-old Nardeen, who goes on a quest to find out who killed her family. Murder mystery is a great genre for novels set in the past – it's a really immersive way for readers to learn about the chosen historical period, as the characters have to speak to lots of people and visit lots of places! I look forward to watching Nardeen move from childhood to adulthood and trying to solve the mystery along with her. Read an excerpt at Words Without Borders.
Author and Publisher Ayò Oyeku is reading …
ZIMBABWE Adventure in Morocco by Christine Mapondera-Talley (Global Kidz House). Makanaka gets an invitation from her friend, Nadia. She's inviting Makanaka to visit her—in Morocco! Fari and Makanaka quickly take off for Casablanca. But when they arrive, they discover that Nadia has a problem. Someone has taken her team's soccer ball! Can Makanaka and Fari help Nadia's team solve the mystery?
Translator and World Kid Lit co-editor Ruth Ahmedzai Kemp is reading …
CENTRAL AFRICAN REPUBLIC / GHANA The Magic Doll: A Children's Book Inspired by African Art by Adrienne Yabouza, illustrated by Élodie Nouhen, translated from French by Paul Kelly (Prestel). I couldn't resist this beautiful picture book after reading Jess Andoh-Thayre's review over at GLLI. It's a tender story of a would-be mother and father longing for a baby, and their fertility doll that keeps its precious place in the family even after their beloved daughter is born. An homage to the Akua'ba fertility doll and a celebration of African art and textiles, it's a lovely story about babies, perfect for reading with soon-to-be big brothers and sisters.
NIGERIA What Sunny Saw in the Flames by Nnedi Okorafor (Cassava Republic), also published under the title Akada Witch. After first coming across Okorafor as the author of the atmospheric picture book Chicken in the Kitchen (Lantana Publishing), I've been looking forward to exploring her magical worlds as a writer of YA science fiction and fantasy. This young YA novel is an exciting page-turner about Sunny, a feisty teenage girl who is different in many ways – not just because she's albino and better at football than her brothers, but because she's a Leopard person: someone who can command juju magic and cross into the spirit world. We see a magical other side to Lagos, Nigeria, as Sunny learns to harness her innate abilities, just in time to join the mission to stop The Black Hat and end his demonic quest…
SOUTH AFRICA Journey to Jo'Burg by Beverley Naidoo, illustrated by Lisa Kopper (Harper Collins). This middle grade novel from 1985 has lost none of its power now that it is read post-Apartheid. It's the story of a girl's determination to walk – penniless and without any real idea of where she's going – hundreds of miles to the big city to bring back her mother, to help her little sister who's desperately sick. This edition is superb and has helpful historical context to support discussion with young people, including an introduction by Michael Rosen, an afterword by the author, a glossary of Tswana names, as well as Naidoo's moving poem 'They tried to lock up freedom'.
SOUTH AFRICA A Good Night for Shooting Zombies by Jaco Jacobs, illustrated by Jim Tierney, translated from Afrikaans by Kobus Geldenhuys (Oneworld/Rock the Boat). I was relieved when I read this middle grade novel with my 11-year-old that the shooting refers to making a movie, not guns! There is one slightly alarming scene involving a gun, but no one – human or zombie – is harmed. We both really loved this story of maths-mad Martin and his new neighbour, zombie-mad Vusi who is determined not to let his illness, or the adventures they inadvertently stumble into, stop him from making his dream movie.
World Kid Lit contributor Johanna McCalmont is reading …
NIGERIA Boom Boom by Jude Idada (Noirledge Publishing). This book has stayed with me ever since I read it last year. Jude Idada doesn't shy away from exploring the complicated emotions eight-year-old Osaik experiences as he watches both his mother and his little sister fight sickle cell anaemia. There are many funny moments too – and Kompa the dog gets the chance to prove he's an important member of the family too.
LA RÉUNION Kô by Joëlle Écormier (Zébulo éditions). Do you want to be transported to a tropical island? And explore what it feels like to be Kô growing up? Then this short YA novel in French is for you! #TranslateThis
CAMEROON/FRANCE Les Saï-Saï et le bateau fantôme (The Saï-Saï Gang and the Ghost Boat) by Kidi Bebey (Édicef). I've always loved a good detective story where the kids save the day, so it's no surprise that I'm already hooked on this middle-grade series set in an African coastal village. I felt just as scared as Chaka, Jolie, Lala and Barou when they realised that Jolie—who walks more slowly because she needs to use a crutch—had disappeared as they escaped from the 'ghost'. But with a bit of help from Jolie's big brother, the Saï-Saï gang not only find their missing friend, but also bring down a criminal gang! #TranslateThis
World Kid Lit co-editor Claire Storey is reading…
SOUTH AFRICA Halley's Comet by Hannes Barnard, translated from the Afrikaans by the author (Catalyst Press). This is a new YA release that is due out in January 2022, so many thanks to the publisher for the advance copy. Set in the final years of South Africa's Apartheid era, this novel brings together three strangers from different backgrounds who are linked through events that take place one evening. I'm only a few chapters in but the tension in the early stages of the novel has really pulled me in. I can't wait to hear Hannes Barnard talk at the Reading Africa event on Wednesday!
Adult fiction
And a grown-up read recommended by Olatoun Gabi-Williams, founder of Borders Literature for all Nations…
NIGERIA The Son of the House by Cheluchi Onyemelukwe-Onoubia (published in Nigeria by Parrésia, in US by Dundurn Press, in UK by Europa Editions)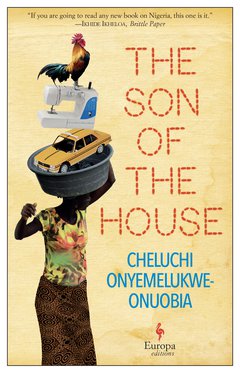 Cheluchi Onyemeluke's first novel relays the lives of two Nigerian women from the point of view of each woman. Julie is a dowager; Nwabulu, an emerging fashion designer. Kidnapped by armed robbers, the life stories which the women share with one another while in captivity, make for a fast-paced and engrossing read. A stand-out feature in the narrative is the abundant, vibrant local colour of the novel's settings which span a typical Igbo village and 2 cities: Enugu  in South-East Nigeria and Lagos, Nigeria's commercial capital in the South-West.