Welcome to this bumper #WorldKidLitMonth special edition of the monthly round-up.
News
It's been such a fantastic September celebrating world literature for young people, and so exciting to see the #WorldKidLitMonth hashtag growing and taking on a life of its own. We encourage you to go and explore social media, searching under the #WorldKidLitMonth hashtag. See what new books, blogs, publishers or platforms you can discover.
A massive THANK YOU from the whole World Kid Lit Team to everyone who has been involved in this month-long celebration. A few special mentions to our fantastic blog contributors around the globe, our team on social media – Helen Wang, Ruth Ahmedzai Kemp and Anam Zafar in particular – and our blog editors Ruth, Jackie Friedman Mighdoll and Claire Storey.
We are also thrilled to announce that Jackie will be staying on as co-editor beyond September – we delighted to have you with us, Jackie!
***
In other news, the UK Literacy Association Book Awards 2022 long list was announced this week with no less than seven translations on the list. It's great to see so many fabulous books included, and a big thank you to the UKLA for naming all the translators! The full lists can be viewed here.
Articles: World Kid Lit Month
We have been blown away by the number of organizations celebrating and reporting on #WorldKidLitMonth this year. It's been great to see so many libraries marking the occasion – all over the world! These are a few of the articles about World Kid Lit Month that we've seen…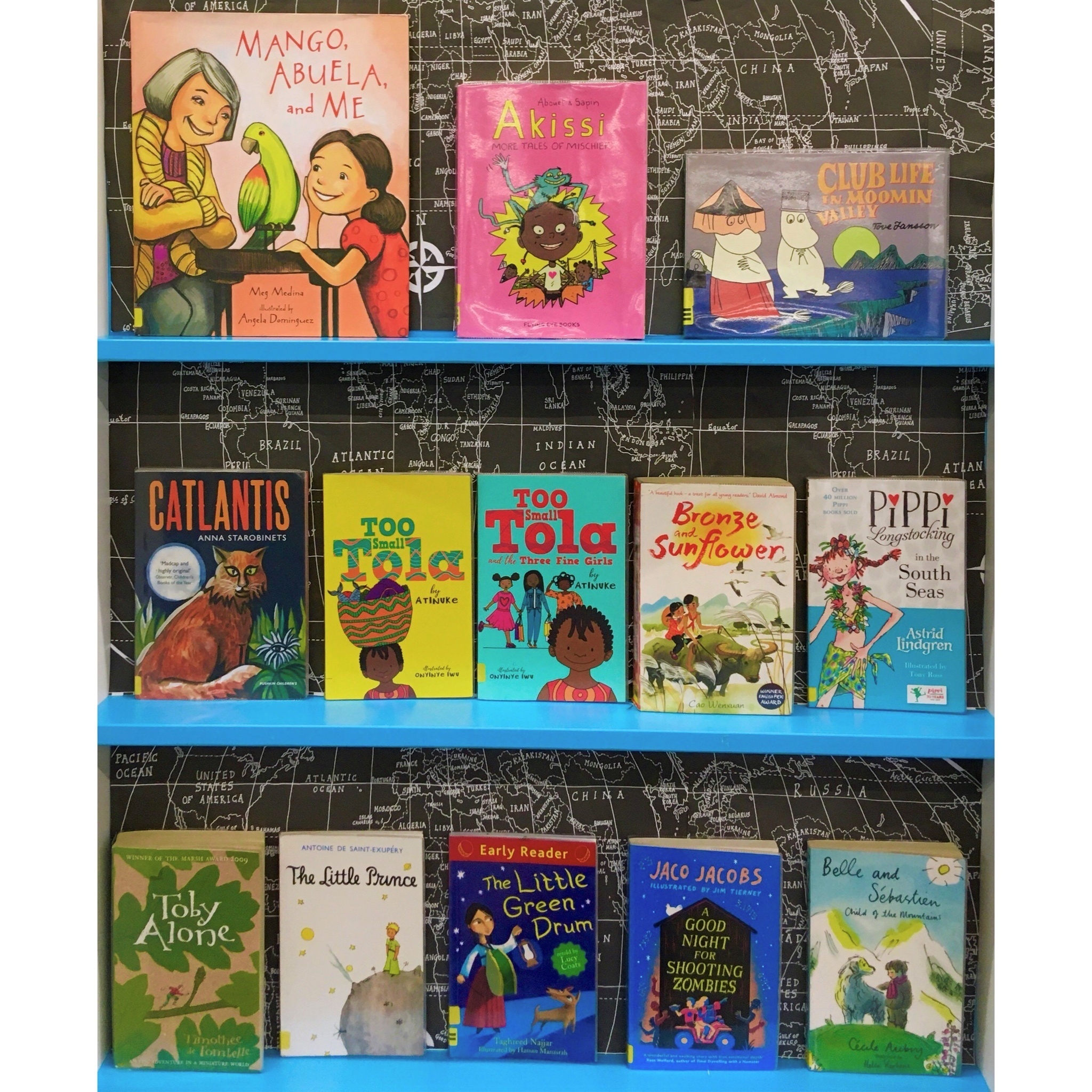 Association for Library Service to Children (ALSC) – #WorldKidLitMonth – A Celebration of World Literature for Kids and Young Adults
Euro Lit Network – #RivetingReviews: World Kid Lit Introduction by Johanna McCalmont and Claire Storey
Language Lizard – Introduction to #WorldKidLitMonth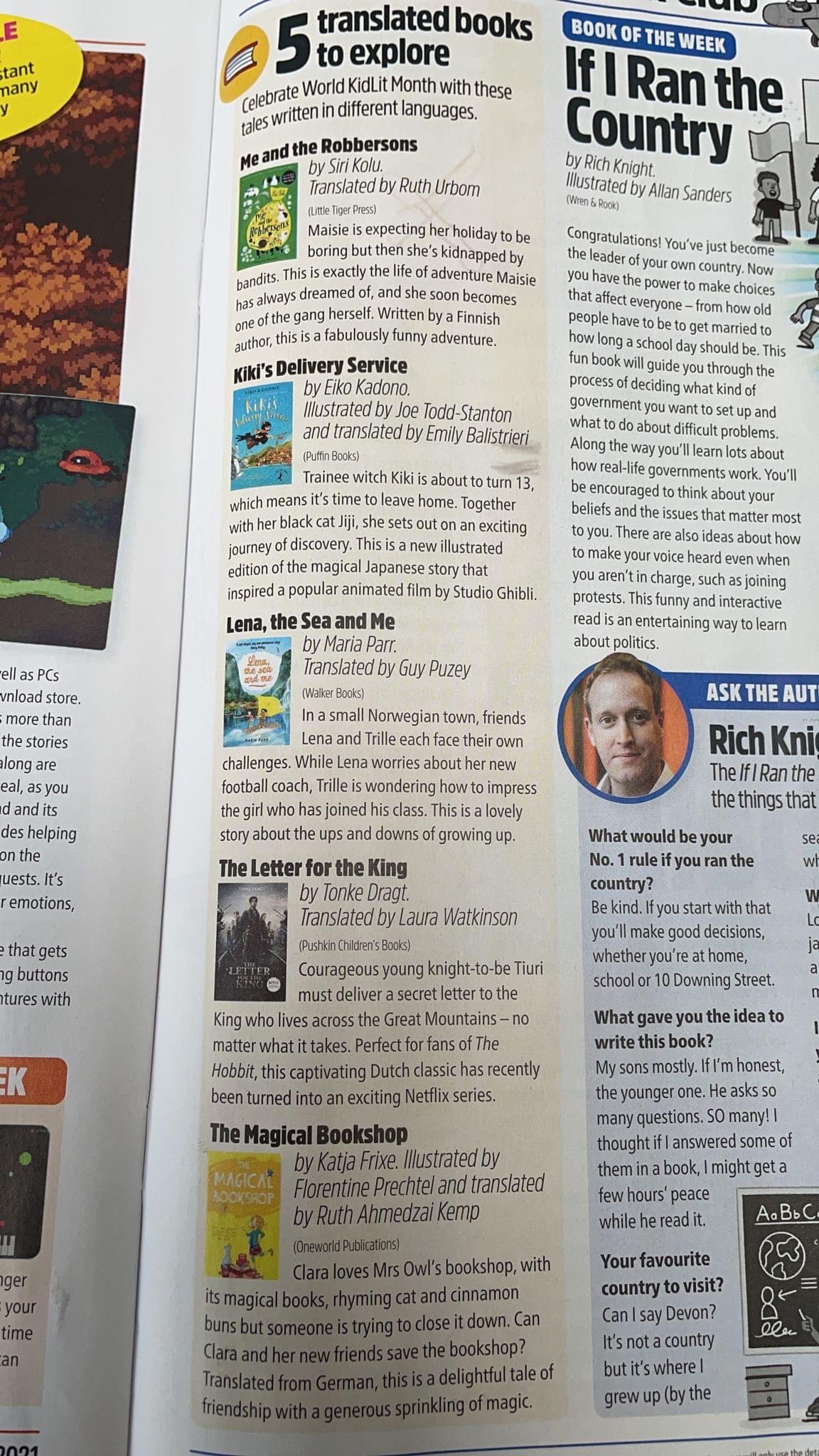 The Linguist, the journal of the Chartered Institute of Linguists – A Window to the World by Claire Storey
New Books in German – World Kid Lit! An interview with Ruth Ahmedzai Kemp and Claire Storey
The Publishing Post – World Kid Lit Month: The Place Of Translation In Children's Books And Our Top Picks, by Michaela O'Callaghan, Joanne Boustead and Aimee Haldron
The School Librarian, World Kid Lit feature in the magazine of the School Libraries Association (p.32 – members only access)
The Week Junior (print only) – #WorldKidLitMonth feature: 5 translated books to explore
Articles: global children's literature and publishing
Euro Lit Network – LA ESPAÑOLA: Riveting Writing from Spain. September: Children's Literature, by Claire Storey, introduced by La Española editor Alice Banks
Graphic Library – Beginning Buyers' Guide of Manga for School Librarians, by Sara Smith
IBBY – interview with publisher Emma Dai'an Wright of The Emma Press
Lyn Miller-Lachmann – The Story of a Publisher: Levine Querido
Muna Kalati – Overcoming The Translation Challenges In African Language Publishing For Children by Christian Elongue
Publishers Weekly – The Byrds of Cinco Puntos Press Say Goodbye, by Ed Nawotka
The School Librarian – International Perspectives, by Karen Van Drie (p.25; access for subscribers): "Students need more books in translation so they can #ReadTheWorld"
School Library Journal – Colombian American Kid Lit Comes of Age by Jessica Agudelo
The Wire – Scraggly, Sniggering, Never Prim: Drawing the Indian Child in the Indian Children's Book by Soumashree Sarkar
Words Without Borders – Children's Literature in Translation: Gecko Press, interview with Julia Marshall
GLLI – #WORLDKIDLITMONTH SEPTEMBER 2021- SPOTLIGHT #DUTCHKIDLIT
GLLI – #DUTCHKIDLIT AND THE CANON OF THE NETHERLANDS, PART 1: ANNE FRANK'S THE DIARY OF A YOUNG GIRL
GLLI – #DUTCHKIDLIT AND THE CANON OF THE NETHERLANDS, PART 2: THE SUBVERSIVE WIT OF ANNIE M.G. SCHMIDT
GLLI – #DutchKidLit: Historical Fiction and the 2014 & 2015 ALSC Batchelder Award Books
GLLI – virtual field trip to the Children's Book Museum in The Hague, by librarian Kim Tyo-Dickerson
Book reviews and recommendations
UKLA – The UK Literacy Association have been tweeting throughout September with daily book recommendations from their members, with hashtag #WorldKidLitMonth
Helensville Library, New Zealand – librarian Annie created a fantastic #WorldKidLitMonth album of books from (or by creators from) almost every country of the world: on Twitter and Facebook. Thank you, Annie!
Center for the Art of Translation – Children's and YA Books in Translation to Kick Off the 2021 School Year
Anime Planet – Single Volume Manga for Kids
Andrew Wong – Review of "The Cake Tree in the Ruins" by Akiyuki Nosaka (tr. Ginny Tapley Takemori)
GLLI – THE 2021 EISNER AWARD NOMINATIONS by Nanette McGuinness
Brown Girl Bookshelf – A Twitter thread of Children's Book by South Asian Authors
BookTrust – What to Read After… The Moomins
BookTrust – Reading around the world for World Kid Lit Month
Words Without Borders – Around the World with Queer Kid Lit and YA: 13 Books to Read Now, compiled by Ruth Ahmedzai Kemp
Five Leaves Bookshop – Under Review: The Edelweiss Pirates: teenage rebels in Nazi Germany by Dirk Reinhardt, translated by Rachel Ward (Pushkin Children's). Review by Ross Bradshaw
De Colores: The Raza Experience in Books for Children – book reviews:
Let's Talk Picture Books – Cat and Dog: A Tale of Opposites by Tullio Corda, translated by Taylor Barrett Gaines (Red Comet Press)
Euro Lit Network #RivetingReviews – World Kid Lit Month special:
ArabLit – books for young people were featured on Tuesdays throughout World Kid Lit Month:
Global Literature in Libraries Initiative (GLLI) – month-long feature on Dutch children's and YA literature, curated by librarian Kim Tyo-Dickerson.
Talks, podcasts and readings (recorded)
The Bookseller Children's Conference – Case Study: Claire Storey introduces Project #WorldKidLit and #WorldKidLitMonth
Japan Foundation New York Literary Series Episode #5: Sachiko Kashiwaba and Avery Fischer Udagawa
Jill!+ A Women+ in Translation Reading Series for #WorldKidLitMonth – Translators read excerpts of their work, including:
Literaticast – conversation with translator and author Lawrence Schimel, about World Kid Lit Month, about translating children's books, and about how two of his new baby books caused an International Incident, just in time for Banned Books Week.
Mother Tongue Twisters – Translating KidLit for a Global Audience. Poet and translator (from Spanish and Chinese into English) Chloe Garcia Roberts in conversation with Mohini Gupta
Pushkin Press – Teenage rebels in Nazi Germany: Michael Rosen in conversation with Dirk Reinhardt and Rachel Ward, translator of The Edelweiss Pirates
Society of Authors – guide to negotiating publishing agreements for literary translators by contracts advisor Catherine Fuller
Translators Aloud – translators read excerpts of their work for children and young adults (published and unpublished) for #WorldKidLitMonth:
Trafika Europe Radio – World Kid Lit Special featuring translators Claire Storey, Laura Watkinson, and Ros Schwartz, and publisher (and translator!) Greet Pauwelijn
A very busy month here on World Kid Lit blog!
Here on the blog, we've had a packed schedule with at least one blog post every day throughout September. We've had book reviews of children's fiction from Afghanistan, Germany, Netherlands (here and here), Peru, Russia and Ukraine, as well as teen fiction/YA from Algeria, India, Italy, Korea, Latvia, Mauritius, Nigeria, Palestine, Somalia and Wales (UK). Three of our book reviews this month have been by young readers, aged between 7 and 11, and at least 3 of our posts highlighted books not yet translated into English (flagged with the tag #TranslateThis!)
We've featured authors who are activists for their language, including Arabic, Nubian (spoken in Sudan and Egypt), Cabo Verdean Portuguese and Creole, and Welsh, and we asked literary translator Nanette McGuinness about her work on LGBTQ graphic novels and Hugh Hazelton about translating the poetry of Guatemalan Indigenous poet Humberto Ak'abal.
We've profiled publishers of global children's books, including interviews with Greet Pauwelijn of the UK's Book Island, Claudia Zoe Bedrick of US indie press Enchanted Lion Books, Marilyn Brigham of Amazon Crossing Kids, Dušanka Stojaković of South African press New Africa Books, and Manuel Soriano from Uruguayan Spanish-language publishing house Topito Ediciones. We also ran a feature on Baby Raven Reads and Inhabit Media, two Indigenous publishers of North America.
Many guest contributors have shared their perspectives on world literature for young people, including Soviet picture books in Bengali, the children's literature of Cabo Verde, and we've had practical guides including how international publishers can sell English language translation rights, why we should #ReadTheWorld, how (and why) to celebrate World Kid Lit Month in your school, and how to learn a language through reading: Finnish, for example.
This year has seen more libraries and librarians engaging with World Kid Lit Month than ever before, and we were delighted to welcome Rabeea Arif, projects and programmes manager at CILIP, the UK's library and information association, with her introduction to working internationally in libraries, and Elisabet Risberg from the International Library of Stockholm sharing her top tips on sourcing Arabic-language books for children and teens, including 25 must-haves for your collection. This month has also been a global celebration of the organizations that support children's literature globally, including SCBWI (the Society of Children's Book Writers and Illustrators), USBBY, and IBBY (the International Board for Books for Young People).
Upcoming events
UK Libraries Week 4-10 October – Keep up to date with Libraries Week 2021 by following @librariesweek and share your plans at #LibrariesWeek.
Cheltenham Literature Festival – online events:
Cornelia Funke: Dragon Rider-BSL Sat 9 Oct Free. This event will be available on Cheltenham Festivals YouTube channel and interpreted for British Sign Language (BSL).
Anna Woltz: Talking To Alaska Sun 10 Oct Free. This event will be available on Cheltenham Festivals YouTube channel and interpreted for British Sign Language (BSL).
Cheltenham Literature Festival, UK (in person, free event) Sun 10 Oct 11:00am – 12:00pm Raising a World Reader: Book Recommendations from Ruth Ahmedzai Kemp
Waterstones Online events, UK
Thursday 25 Nov 2021, 17:00 UTC
Join us online for an event with four incredible fantasy adventure writers, Cornelia Funke, Efua Traoré, Jasbinder Bilan and Aisling Fowler. For more information and tickets, follow this eventbrite link.
Opportunities
Bright Light Books are accepting submissions for manuscripts in the YA and Children's Literature categories by writers of African heritage. *We'll be prioritizing YA stories, but children's book manuscripts are also welcome. Send manuscripts through submissions@brightlightsbooks.com
38th IBBY International Congress Call for Papers. The submissions window is open until the 15 March 2022. To find more details and submit your abstracts, go to the Congress website:
Reading Colombia has 10 kids' book translation supports available for Colombian authors. The application period to secure the grants is open now until 1 December 2021 or until the grants run out. Full details (in Spanish) here.
New releases: books out in October
Picture books
Boo! by Janik Coat, translated by Jill Phythian ~ Thames and Hudson [French, France]
Burying the Moon by Andrée Poulin, illustrated by Sonali Zohra, translated by Andrée Poulin ~ Groundwood [French, Canada]
Franz-Ferdinand: The Dancing Walrus by Marcus Pfister, translated by David Henry Wilson ~ NorthSouth [German, Switzerland]
Home by Lian-En Lin, translated by Papa Publishing House/Yes Creative Ltd. ~ Reycraft [Chinese, Taiwan]
I am an Artist by Kertu Sillaste, translated by Adam Cullen ~ Graffeg [Estonian, Estonia]
I Have the Right to Culture by Alain Serres, illustrated by Aurélia Fronty, translated by Shelley Tanaka ~ Groundwood [French, France]
Inside the Suitcase by Clotilde Perrin, translated by Daniel Hahn ~ Gecko Press [French, France]
Inside In: X-Rays of Nature's Hidden World by Jan Paul Schutten, illustrated by Arie van 't Riet, translated by Laura Watkinson ~ Greystone Kids [Dutch, Netherlands]
The Little Car by Xu Han, translated by China Children's Press and Publication Group Co., Ltd. ~ Reycraft [Chinese, China]
Rita wants a Dragon by Máire Zepf, illustrated by Mr Ando, translated by Máire Zepf ~ Graffeg [Irish, Ireland]
Rita wants a Robot by Máire Zepf, illustrated by Mr Ando, translated by Máire Zepf ~ Graffeg [Irish, Ireland]
Rita wants a Witch by Máire Zepf, illustrated by Mr Ando, translated by Máire Zepf ~ Graffeg [Irish, Ireland]
The Mountain by Rebecca Gugger, illustrated by Simon Röthlisberger, translated by Marshall Yarbrough ~ NorthSouth [German, Switzerland]
Middle grade / junior fiction
The False Rose by Jakob Wegelius, translated by Peter Graves ~ Pushkin Press [Swedish, Sweden]
I'll Keep You Close by Jeska Verstegen, translated by Bill Nagelkerke ~ Levine Querido [Dutch, Netherlands]
Memento Monstrum by Jochen Till, illustrated by Wiebke Rauers, translated by Rachel Ward ~ Arctis [German, Germany]
The Secret of the Magic Pearl by Elisa Sabantinelli, illustrated by Iacopo Bruno, translated by Christopher Turner ~ Red Comet Press [Italian, Italy]
Teen/YA including graphic novels
Off the Beaten Track by Maylis de Kerangal, illustrated by Tom Haugomat, translated by Helen Mixter ~ Greystone Books [French, France] ~ graphic novel
The Rot (Raven Rings trilogy #1) by Siri Pettersen, translated by Siân Mackie and Paul Russell Garrett ~ Arctis [Norwegian, Norway]
Tunnels by Rutu Modan, translated by Ishai Mishory ~ Drawn and Quarterly [Hebrew, Israel] ~ graphic novel
***
Please send us any corrections or contributions for next month's roundup to world.kid.lit@gmail.com or by twitter @worldkidlit. Thanks!