Enchanted Lion Books is an independent press in Brooklyn, NY, with a focus on publishing beautiful picture books and children's fiction in translation. Enchanted Lion Books have been awarded the ALSC Batchelder Prize five times (Telephone Tales in 2021, Brown in 2020, Cry, Heart, But Never Break in 2017, The Wonderful Fluffy Little Squishy in 2016 and Mister Orange in 2014), with a further 6 honor titles (Do Fish Sleep? Jerome By Heart, Nine Open Arms, The Bathing Costume or the Worst Vacation of My Life, My Father's Arms Are a Boat and Big Wolf and Little Wolf). But the COVID-19 pandemic has hit small independent presses hard. ELB founding director, Claudia Zoe Bedrick, herself a translator, tells us how they have adapted to the pandemic and about their plans for the future…
World Kid Lit: Firstly, belated congratulations on winning the ALSC Batchelder Prize 2021 with Telephone Tales! Enchanted Lion is no stranger to this prize, the US's most prominent award for children's books in translation. What's the secret to your astonishing success?
Claudia Zoe Bedrick: Luck and timing, like so many things, I suppose.
WKL: And can you tell when you publish a book that it's going to win hearts and prizes?
CZB: No, it's always a surprise. And there are always brilliant and beautiful books that for inscrutable reasons fall under the radar and are awarded nothing at all from anyone, anywhere, and yet we know those, too, are excellent books.
WKL: How has the children's book publishing world changed since the foundation of Enchanted Lion Books? Are they changes for the better, or have things become more challenging?
Some of the changes, such as a greater openness to more unusual stories and styles of illustration, are for the better. Others, brought on by COVID, such as far, far fewer opportunities for books to be physically discovered, are extremely challenging.
WKL: Did you have any favorite books in translation as a child? Were you aware of books coming from other places?
Celestino Piatti's The Happy Owls was given to me as a present in 1968 when I was 5 years old, and I still have that same book in my office today. I loved it and was very aware that it came from a country called Italy.
I actually grew up going to New York's Donnell Library with my father and two sisters almost every Saturday. Our father would leave us in the children's section and go off on his own research for what seemed like hours. The collection there was international and very clearly labeled by language, so I could look at books according to language, and did.
I also went to New York's Rudolf Steiner School for 9 years and started learning French and German in Kindergarten, through songs and so on. And many of my teachers had come from Germany and had accents and they read German stories, so yes, I was very aware of stories coming from around the world. We also had many folktale collections from around the world at home.
WKL: You've had great success with translations from beyond Europe including from Japanese, and this year you've got two picture books forthcoming in translation from Korean. How easy is it to hear about books from Asia compared to books from European languages?
CZB: We have found it to be harder to learn about books from Asia since a lot of publisher websites have only the sparest amount in English. In terms of our Japanese books, I discovered some, like the Chirri & Chirra series, browsing at Kinokuniya, and another of our series, a trilogy of books, actually, about Sato the Rabbit was brought to us by its translator Michael Blaskowsky and his wife Shizuka, who is Japanese. The two books we're publishing from South Korea were presented to us by an agent.
WKL: What can be done if anything within children's publishing to boost the number of books translated from languages that are currently less represented in English translation?
CZB: It would be a huge service and highly productive if more translators were to investigate the children's literature of their adopted language(s) and then share those books with children's editors here in the US. Government subsidies would also be great, but they are rare in the US, sadly. Many countries do offer grants for translation and production of children's books, and those are highly productive. It would likely help, too, if more librarians were exposed to books in translation and had the chance to develop an awareness of them and sensitivity to them.
WKL: What impact has COVID-19 had on the children's book industry in your experience?
CZB: We are aware that many publishers have had great sales and that their earnings were as much or even more than pre-pandemic times, but it's been the opposite for us. Since our books really require discoverability, the closure of indie bookstores, which account for close to 20% of our sales, was a huge hit. Our income fell a lot in 2020. If not for all of our web commerce, which we built up and where we had significant sales, and our Kickstarter campaign, and government assistance, we wouldn't have been able to move forward with most of our books.
WKL: Have you had to change plans because of the pandemic?
CZB: Yes, very much so. As mentioned above, we moved into direct e-commerce, did a Kickstarter campaign, and moved to online events and social media promotions. This end of August, when I'm writing this, we're also just about to close down our first pop-up shop, which we ran for the month of August in Williamsburg, Brooklyn. It's been amazingly rewarding to interact with locals, passers by, and individuals and families just discovering our books, while also having the chance to see many long-time readers and supporters within our New York community.
Our pop-up adventure was completely successful, meaning also financially, and so we are looking to do it again. Surely pre-holiday, and then at other junctures throughout the year, too. Taking up a storefront and sharing our books directly with people has also been emotionally/psychologically/spiritually beneficial, after 17 months of COVID isolation, and the strangeness of living in an online, splintering world where the bonds of affection, affinity, mutual care, civility, and generosity often seem completely busted. But in our little pop-up world, magic been happening between strangers through books and conversation every single day, and this has been tremendously encouraging.
WKL: Please tell us more about your new Unruly Books imprint. What will it give you space to publish that you haven't published before?
CZB: Our Unruly imprint will give us the chance to publish picture books created not as children's literature but for YA and adult readers. The definition of picture books as being for "children" is really only a classification made by librarians and publishing houses, influenced by the culture at large and influencing it in turn.
As we all know, children, young adults, and even adults are the addressees of children's books and many of the creators of picture books are creating books for readers of all ages. That said, children's books are still created as children's literature and as such, they are created with certain developmental notions and frameworks in mind. Content suitable for a YA or adult reader may very well not be suitable for a young child.
Moreover, highly conceptual, abstract, or symbolic relationships between words and images may not be legible to young readers, and hence won't be enjoyable or meaningful to them. The complex partnership between words and images that is typical of the picture book is such that words and images can enter into many different kinds of symbiotic relationships. Not all belong in children's literature, but as this particular kind of symbiosis is not present in any other form of artistic expression, it seems truly interesting and vitally important to open up a space where these can be explored and put into relationship for older readers, as a way of allowing them to act and express differently.
This is exactly what we're doing with Unruly, where the books we'll be publishing are picture books, but ones created for YA and adult readers. As such, they can have more mature content and can grapple with complex ideas in a more abstract and suggestive way.
WKL: Can you tell us about some of the books you published (or are forthcoming) in 2021 from Enchanted Lion Books? How did you come across them and what made you think, I have to publish this in English?
CZB: The Most Beautiful Story is a stirring picture book from Norway about a girl who is grieving the loss of her brother and how she finds hope and healing through the saving power of stories.
We are proud to be the English-language publisher of Norwegian illustrator Øyvind Torseter, and this sixth book of ours with him, this one written by Brynjulf Jung Tjønn. It's almost searing in the truths it shares and how real it is, but precisely because of that, the story is comforting, healing, and full of light.
From the near silence about the book on the part of reviewers and the one review it did receive that expressed a near total misunderstanding, it seems the custodians of books here just aren't inclined to find hope and promise through the gorgeous idea, which again is completely actual, that we fill absence through storytelling and we bring our loved ones back to life through how we hold them in memory and the stories we tell. Children, or many we've shared this book with, seem to get this intuitively.
As one child psychiatrist put it, what characterizes humans and sets us apart is that we are the storytelling animal. We tell stories to save our lives, to redeem past trauma, to understand, to fall in love, and to fill the terrible absence brought by death. Death is such a complicated and difficult thing to come to terms with that we firmly believe that it's a great disservice to children (and really, readers of all ages) to ignore stories from other cultures, with their different conceptions and insights, about life's hardships. And in this book, Torseter's art is such a splendid match for Tjønn's storytelling, with light and color infusing the page through the art as storytelling fills and enlivens the space of absence through recollected presence.
In Coffee, Rabbit, Snowdrop, Lost, a child must find new ways of connecting with a beloved grandfather when he begins to lose his memory and lose his words every which way. This is a picture book from Denmark, and it was actually the illustrator who brought it to us: she left a package of a few of her books at our office while she was visiting New York.
We see this book as exemplifying the best of what we do at Enchanted Lion, which is to publish important and beautifully told stories from around the world, stories that aren't afraid to take on difficult topics like dementia and that treat them with honesty and sensitivity.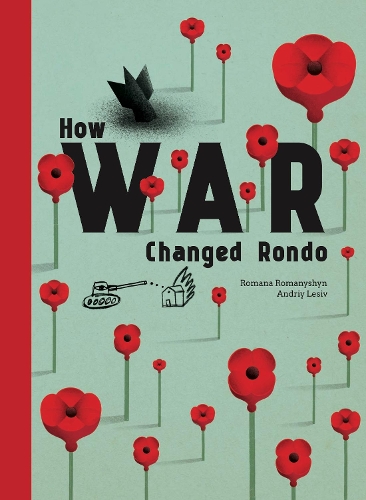 Coming from Ukraine and inspired by the author-illustrators' lived experience of war, How War Changed Rondo tells the story of three friends who live in idyllic Rondo—that is, until War comes to town. War can't be reasoned with or bested in battle, so the friends must lead their whole community to band together and save Rondo. What we found most affecting about this powerful, sad, yet tremendously gentle book was the story's ending: no one is left unscathed, and Rondo is forever changed by War. Unlike many picture books published in the United States, it presents a nuanced view of the permanent scars left by violence and adversity, while still leaving space for beauty, regrowth, and hope. This book was shared with us initially by the book's translator, Oksana Lushchevska. She shared a PDF of the book along with a draft translation and through a series of rich and interesting emails, we came to the decision that it would be wonderful to seek out the rights from the original Ukrainian publisher, Old Lion Publishing House.
The Sato the Rabbit trilogy of picture books comes to us from Japan. It follows the whimsical adventures of the titular Sato as he finds magic in even the most routine of activities and enjoys the marvels offered up by the natural world. As I mentioned before, Michael and Shizuka Blaskowsky, the husband-and-wife team who translated the books into English, were the ones who shared the series with us, and we were immediately transported into the world of Sato, where anything can happen and all live in harmony.
Part of the wonder of Sato's world is that it's not marked by cause and effect in the same way that life is, nor is there ever any sense of surprise or strangeness at the wonderful things that happen. Rather, wonders and miracles happen all the time, and they are just part of the fabric of the whole, as is the case in childhood, if one is lucky enough to have the space and freedom and security to live as a child.
Two of the four books profiled here were introduced to us by translators, which is always an enormously exhilarating thing. At Enchanted Lion, we are all deeply attentive, long standing fans of translators and translation and spend a lot of our lunch, coffee, and pause moments discussing translation. We are always thrilled to be tracked down by translators, cultural emissaries that they are, and to be presented with works by them.
Thank you Claudia for taking the time to talk to us!
***
Claudia Zoe Bedrick is the publisher, editor, and art director of Enchanted Lion Books, an award-winning, independent publisher based in Red Hook, Brooklyn. She graduated from Harvard/Radcliffe thirty-five years ago and spent a decade in the nonprofit world working with libraries and universities in East & Central Europe and the countries of the former Soviet Union, while in graduate school. Her sense of hope is nourished every single day by the open minds and creativity of children everywhere.