Today is publication day for Edelweiss Pirates by Dirk Reinhardt, translated by Rachel Ward and published by Pushkin Press. We caught up with Rachel to talk about the project….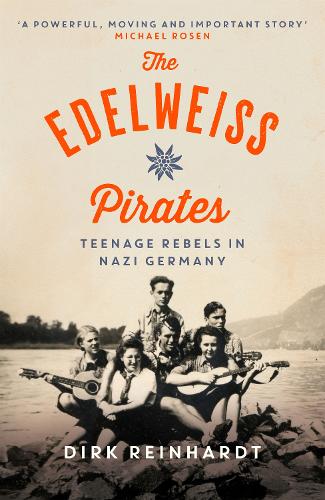 World Kid Lit: Hi Rachel, thanks for talking to us. Could you tell us a bit about The Edelweiss Pirates?
Rachel Ward: The Edelweiss Pirates were informal groups of young people who were opposed to the Nazi regime in Germany, before and during the Second World War. The book is the story of Josef Gerlach, who joins one of these groups with his best friend Tom at the age of 15. At first, they just want the freedom to wear and do what they like without being pushed around in the Hitler Youth, but over time they become more political and politicised, and things get more dangerous for them. They start to rebel and protest more publicly and face violent reprisals at every level from the Hitler Youth boys to the SS and Gestapo. The story is told by Daniel, a young boy in modern Germany who meets old Mr Gerlach at the cemetery when they are visiting family graves. Josef gives Daniel his wartime diary to read so that he learns about the events from his point of view then, and is also able to talk to him a little about the way he looks back on them now.
WKL: How did you get involved in this project?
RW: Adam Freudenheim at Pushkin Press came to me to translate it after they had bought the rights. I didn't know anything about the Edelweiss Pirates, so at first I thought from the title that it would be a jollier book than it actually is. As soon as I started reading, though, I knew that it was a really important story to tell.
WKL: The book received a translation grant from the Goethe Institut. How important are grants like these and how involved were you in securing that grant?
RW: These grants are really important to publishers in getting translated books funded, but as a translator I have no involvement in the process. The publishers apply for them and all I have to do is sign a form afterwards to confirm that I was paid!
WKL: In the afternote, the author states: "the characters in this book—the young people around Gerlo and Flint—are invented, but only up to a point because they are similar to the "real" Edelweiss Pirates." Being based on real-life events, how much research did you have to do to ensure your translation was historically accurate?
RW: The text is very clearly written so I didn't need to do too much research into the detail of the Edelweiss Pirates themselves. I have also studied this period quite a lot, and translated quite a lot of material relating to it – it comes with the territory when you translate from German – so I have quite a lot of background knowledge already. The research I did was more to do with trying to make sure that the English wasn't anachronistic – looking into usage in the OED to see whether a word was used at that time and so on. There's a lot of slang and dialect used in the text, so I needed to match the tone without making these German young people sound too British or American, and without using words that hadn't been coined at that time. I also needed to do quite a lot of checking on whether there are established English terms used for the Nazi and military terminology etc. I also found myself looking up the places that are mentioned to see if they have English names, where they are, and what they look like – this really helps in making the translation more vivid.
WKL There are some scenes that are quite graphic in how the protagonists are treated, especially the sections where they are detained at the headquarters of the Gestapo. As the translator, how do you work when you are translating distressing content like this?
RW: Yes, it was interesting to see, when I was working through later drafts of the book that there were far more typos and homonyms in the distressing sections – it was as though my brain hadn't allowed itself to linger on them too much. There were certainly sections where I could only bear to work on a page, or maybe only a paragraph at a time, and then I had to go out and do some gardening, or go for a walk or something. This is one of the reasons why I like to have more than one project to work on at once, as it's important not to have to have your brain live solely in these dark places. It's very good if you can have something fun to counteract a harrowing text.
WKL: At the back of the book, there is a glossary explaining some of the names and places. Is this something that was specially added to the English-language version? If so, was that something you suggested should be added?
RW: Yes, the glossary was added to the English version at my suggestion, although the publishers were only too happy to agree to it. There is so much vocabulary from that era that needs a bit (or a lot) of unpacking in English as it's so laden with Nazi ideology, as well as names of people and places that would be much more familiar to a German reader.
WKL: Are you working on anything else exciting at the moment, or do you have any other books coming out soon that we should know about?
RW: I'm currently working on River Clyde by Simone Buchholz for Orenda Books. It's a lot of fun but definitely not for children! My translation of Memento Monstrum by Jochen Til, illustrated by Wiebke Rauers, will be out from Arctis Books in October. Count Dracula is nervously looking after his grandkids for the weekend, but when the kids find his old photo album, it turns out that his adventurous life story is the perfect entertainment. It's the cutest vampire story ever, and you can see a trailer for it here.
***
Rachel Ward, MA, MITI, lives in Wymondham, near Norwich, UK, and has been
working as a freelance literary and creative translator from German and French to English since gaining her MA in Literary Translation from UEA in 2002. She
specialises in children's and young adult literature as well as crime fiction and other contemporary literature. Her non-fiction interests include history, politics, art, journalism and travel. She can be found on Twitter as @FwdTranslations.